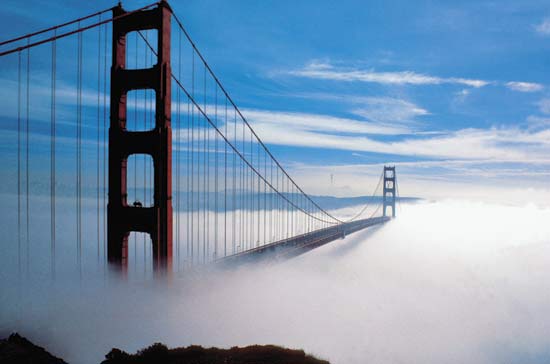 Imagine warping to the rim of a black hole and peering into it's unknown depths.


"The Bridge" takes you there... then teleports you back to terra firma.


My journey with this documentary began back in April/May of 2007. I had seen a news snippet of the movie's release, over at IMDB. Then I forgot about it... until one random day at B-buster. I noticed the case on the shelves, danced around with uncertain notions of the contents, and left it alone. Again, it submerged into my subconscious depths... only to resurface during a spree of Amazon film acquisitions towards the end of summer 2008. I loaded "The Bridge" in my cart one evening, but never took it past the checkout.

I was concerned. What would the motivations of the director be? How would the subject of suicide be presented? Would there be closure... or haunting... when it was all said and done?

The next morning, through my pining, another local movie store called with the interesting news that I had a free rental.... "The Bridge" was in my possession by that afternoon, in my DVD player that evening, and in my mind ever since (but not in a haunting way, thank you).

In 2004, director, Eric Steel, sought out the Minotaur in this labyrinth of a film about suicide. His task was handled delicately, yet deftly, by placing teams of cinematographers at fixed locations with the assignment to survey people along the Golden Gate Bridge, looking for those who would make a terminal leap. Their job was to phone and film. Each crew member had the number for Bridge Patrol handy, to report a possible jumper. They assisted in preventing several suicide attempts by making a call. Twenty-three other people were immortalized by digital media, as their final departures from this life were recorded. The result was a documentary that conveyed the stories of a few of these jumpers. Also included were interviews with their family & friends, some professionals, and even a jump survivor. These additional individuals recounted poignant memories of loved-ones while candidly expressing unanswerable questions, the grieving process, and aspects of closure to the suicides and attempts.

I found out quickly that "The Bridge" was not about providing existential answers to suicidal notions. It never attempted to explain or justify... just explore. Director Steel doesn't leave us trapped in the labyrinth, but the Minotaur isn't slayed, either. Suicide is neither glorified, nor its subject resolved. In some ways, however, the film presented a strong case for living. One example, the opening segment, relays the experience of kite-boarders "enjoying a sport that celebrates life" (as noted by one interviewee), juxtaposed with a man who ends his own life by leaping from the Golden Gate into the shared body of water, near the kite-boarders' feet.

Three of the most memorable moments to me at this time were:
the kite-boarders and their observations
a photojournalist's tale when he has to break away from the world behind the camera lens into the unfolding reality of a girl who's about to leap
a jump survivor's testimony of God's intervention through the uncanny assistance of a harbor seal keeping him afloat after his plummet
Although suicide is a raw subject, it's one that affects every culture in powerful and demanding ways. If you are looking for a film with meaty, sincere, and moving content... this might be for you. Although not gory, the content is potentially disturbing. It's thought-provoking, to say the least. I HIGHLY recommend "The Bridge" be viewed by individuals working in the various helping professions! The movie is an ethical buffet... those who appreciate unbiased moral/ethical exploration will have lots to chew on. Like traveling through the infamous fog that frequents San Francisco and shrouds the Golden Gate Bridge, this documentary explores the dense atmosphere surrounding suicide... then dissipates it through mindful presentation to viewing audiences.