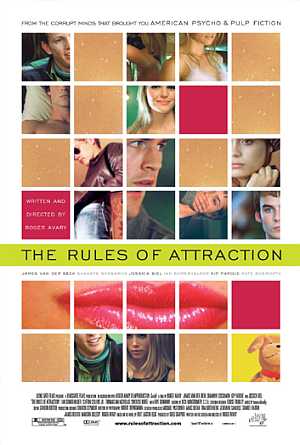 Tonight's film was 2002's
Rules of Attraction
. Shea, Rachelle nor Jess had seen it, so I figured it was just as good a time as any to break it out.
For those of you unfamiliar, this film is basically... out there. It's like
Dazed and Confused
meets
Requiem For A Dream
, if you can imagine that. James Vander Beek heads an all-star cast that includes Jessica Biel, Kate Bosworth, Kip Pardue, Shannyn Sossamon, Ian Somerhalder, Thomas Ian Nicholas and yes, a cameo by Fred Savage.
Stylistically, it's amazing really - there are some
great
shots that you don't see used too often, also the story itself (and the sequence in which it's told) is unsettling and at some times disturbing.
If you're a fan of
Requiem For A Dream
or even films like
Closer
and
Donnie Darko
, then give Rules of Attraction a shot. By just taking a look at the cover you'd think you're watching a sequel to
Can't Hardly Wait
, but that's not the case at all.