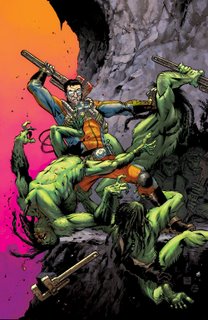 In this comic book space opera Fear Agent Heath Houston is the last of his kind. With a bottle of booze and an assortment of weapons this galactic cowboy roams the universe exterminating alien nuisances. Much like the Jedi, Fear Agents have been wiped out by evil save for one final hero.
I would describe the character of Heath Houston as a mash between
John Carter
and
Bruce Cambell
. His drunken wise cracks and need for alcohol clash comically with his knack for getting in and out of hairy situations.
No family, no friends, only a bottle a Beam and his faithful \"she\" ships computer. A bull in a china shop, Heath swings for the fences relying on his calloused knuckles and emergency jet pack. He runs, he guns, he shoots from the hip. Aviator sunglasses stapled to the brow, a grinning toothpick smirk, all boiling the blood of the evil aliens of our universe.
The art work is beautiful. Tony Moore\'s bright greens, oranges, and deep deep blues create incredible worlds. Fear Agent is one of the most visually exciting comics I have ever read. Every space ship, planet, and creature has its own original pallet.
The story is fast paced, never stopping, one adventure after the other yet still lacing neatly into one unifying plot....great concepts and unique twists.
Although heavily relying on old school sci-fi/horror pulp, Fear Agent still is a sum of originality with a fresh taste to the genre.
I highly recommend and can\'t wait for volume two.