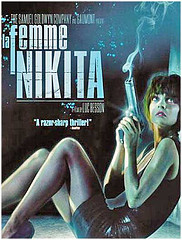 I had my doubts going in, especially from the title screen. But once the story got on its way I was sucked into the drama of the ex-drug addict now deadly assassin Nikita.
I will not lie. It sounds like a chick tough girl type movie with those fake looking tough face that kick @ss girls like to wear. But not at all.
It was very realistic to what I would picture this type of character to be. It was very simialr to the style of the Luc Besson's later movie, Leon:The Professional. The Professional is actually a spin off of this movie. Leon's character as a significant yet small role "cleaning" with Nikita.
If subtitles don't bother you and you can get into older movies then I would highly recommend it. I liked it. I would buy it. Need I say more