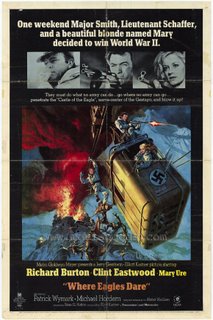 In 1944, an American General is shot down over a heavily defended German fortress and imprisoned within. A rescue attempt is at once launched by British Intelligence, since the General must be liberated before being made to reveal Allied plans for an invasion of France. As the mission unfolds, however, double and triple agents begin to appear in the ranks of the rescue team with the added mystery of an American Lieutenant assigned to the mission for reasons unknown.
Starring Clint Eastwood and Richard Burton this 1968 WWII actioner flows in the same veins as The Dirty Dozen and The Guns of Naverone. I remember this being one of my favorites as a kid. It was fun to watch again years later and seeing all those moments where I cringed. There is this specific scene where Eastwood sticks a knife into the neck of an unaware Nazi guard(a piece of it is in the trailer at the bottom). Gets me every time.
The story and acting are classic. The twists and turns of double agents and spying Frauleins are carried perfectly with the contrasting characters played by Burton and Eastwood. Eastwood is tall, lanky, and slow while Burton is short, stocky, with a fast tongue, but both are smooth under Nazi pressure.
The length may be a little intimidating but once sucked in behind enemy lines the brilliant writer Alistair MacLean builds the story leaving the clock unnoticed on the wall.