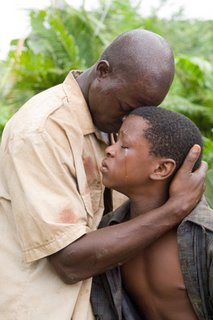 Set against the backdrop of the chaos and civil war that enveloped 1990s Sierra Leone, "Blood Diamond" is the story of Danny Archer (Leonardo DiCaprio), an ex-mercenary from Zimbabwe, and Solomon Vandy (Djimon Hounsou), a Mende fisherman. Both men are African, but their histories and their circumstances are as different as any can be until their fates become joined in a common quest to recover a rare pink diamond, the kind of stone that can transform a life...or end it.
From the director of Last Samurai, Glory, Legends of the Fall, and Courage Under Fire, Edward Zwick brings us another film with a soap box to stand on.
The performances were top notch obviously from Leo and the increasingly beautiful Jennifer but also the standout performance from Djimon Hounsou. His prison scene and shovel bashing were amazing.
I knew this would be a decent movie with the force behind it but I will admit it was pulling teeth to get me to watch it. It was not only well done but an eye opening experience to things that I will never understand.