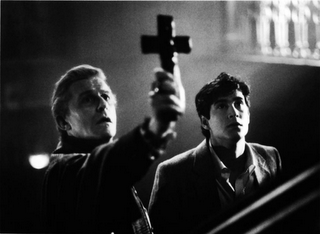 The old my new neighbor is a vampire and no one will believe me chestnut.
A random pick on a Monday night at an art house rental joint. I had heard a lot about this 80's horror thriller now turned comedy and decided to give it a shot.
The greatest part to me in all the movie is that Prince Humperdink from The Princess Bride is the vampire. I had never seen him an any other movie.
From what I can muster this is a classic and worth the watch if you are with a group of trusted movie watching friends. I had fun picking at the bad special effects and campy one liners that were mixed in with some actual quality timeless special effects and intense scenes.
If you have a soft spot for the eighties and taste for blood then this is a fun classic.