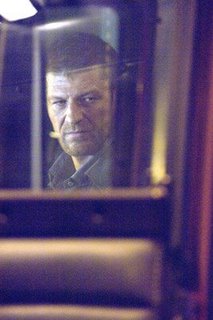 Music video director Dave Meyers's debut film is an updated version of the 1986 shocker of the same name, featuring Sean Bean (THE LORD OF THE RINGS trilogy) in the title role of a chillingly sadistic hitchhiker.
Twenty-something couple Grace (a mini-skirted Sophia Bush from ONE TREE HILL) and Jim (Zachary Knighton) embark on a road trip across the American Southwest to meet up with Grace's friends on vacation. Things get off to a bad start when they almost run over a hitchhiker in the middle of a rainstorm, and then leave him to fend for himself. When they later run into the man (Bean), who calls himself John Ryder, at a gas station, their consciences get the best of them, and they agree to give him a ride to the next town. The couple's passenger quickly turns on his hosts, and although they manage to escape, he follows them and makes their lives a living hell.
Lets just get the good stuff out of the way first. Sean Bean was amazing. Probably one of his best performances to date. That may see impossible but his acting was great. I loved him despite the fact that he was a sadistic killer.
The camera work and style was awesome. Typical Mike Bay produced quality and grittiness. Very similar to the Texas movies. Some excellent shots and movement.
The acting over all was good. Interesting characters who just make stupid decisions more than stupid people. You can respect that in a character with this kinda genre...right?
Aight...now for the nitty gritty. The script sucked. The flow and build of the movie was horrible. The situations laughable at times while visibly the actors are scrapping and clawing for anything to make the scene work.
The movie has no point. No statement. No purpose. Bean kills everyone with no reason except that he wants to die because his life sucks. As the body count was stacking it began hitting a little close to home which just so happens to be Blacksburg Virginia. As the movie ends I just felt a little tired. A little beaten. And a little sad. Other than a couple cheep thrills I got nothing to show.