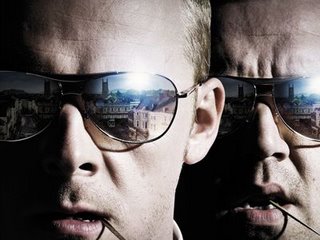 Nicholas Angel (Simon Pegg) is the finest cop London has to offer, with an arrest record 400% higher than any other officer on the force. He's so good, he makes everyone else look bad. As a result, Angel's superiors send him to a place where his talents won't be quite so embarrassing -- the sleepy and seemingly crime-free village of Sandford. Here he meets teddy bearish Danny, the police constables son and they do battle with the town's hidden secrets.
After having been to the screening a little over a month ago I finally got a chance to check this movie out again. After my first viewing I was hesitant in doing a review since my screening experience was obviously an amazing one and would undoubtedly make for a biased analysis.
I loved this movie. Not as much as Shaun of the Dead. But its great. Through fast editing, amazing transitions, and witty humor the movie takes you on yet another resurrecting perspective of dead horse films.
I am excited to see what genre these guys tackle next. I kinda want it to be Sci-Fi or something cool like Film Noir. Simon Pegg as a Private Eye. Whatever they choose next the team has even more solidified themselves as great filmmakers.