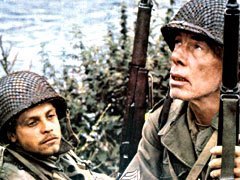 A veteran sergeant (Lee Marvin) of the World War I leads a squad in World War II, always in the company of the survivors Pvt. Griff (Mark Hamill), the writer Pvt. Zab (Robert Carradine), the Sicilian Pvt. Vinci and Pvt. Johnson (Kelly Ward) in Vichy French Africa, Sicily, D-Day at Omaha Beach, Belgium and France, ending in a concentration camp in Czechoslovakia where they face the true horror of the war.
This was an amazing movie. One of the best WW2 films I have ever seen. This unheralded film slips right in there with Saving Private Ryan and Where Eagles Dare.
Lee Marvin and Mark Hammill were amazing. It was so weird seeing Luke Skywalker with a scruffy face and WWII uniform. His character was a cartoonist who was an incredible marksman but could never hit a living guy...until the end. This was probably my favorite Lee Marvin role, even over Point Break and The Dirty Dozen. I have never seen him so diverse in humor, hatred, sadness, and tenderness.
This 2 hour and 43 minute war epic follows these 5 men from Africa all the way to Czech. The shots were beautifully composed and cut together with epic finesse.
The best part about this film is the originality. This isn't just you regular old war movie. The things these soldiers go through are ridiculous.
Liberating an insane asylum, trading for ears, delivering a baby in a tank, carry a dead mother around to keep a promise, killer horses, and flower helmets.
From the very first shot this movie guarantees satisfaction for WWII buffs and film lovers alike.