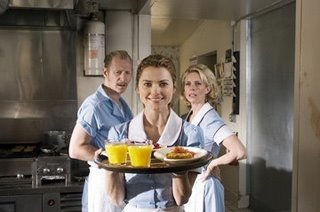 Jenna is a pregnant, unhappily married waitress in the deep south. She meets a newcomer to her town and falls into an unlikely relationship as a last attempt at happiness. Keri Russell, Nathan Fillion, and Andy Griffith were absolutely amazing. Their characters and performances carried this otherwise normal movie straight to the heart.
The crust and the topping of this movie is nothing you or I have never seen...its the filling that makes this story unique. The heart and soul is found in the creation of pies and the evolution of characters.
The faults of the film would have to be the technical aspects...direction, camera, and production value on the whole. It wasn't bad, it just wasn't as rich or full as the characters.
I love Nathan Fillion...he was the only reason I watched Serenity twice and he was amazing in Slither, LOST, and a pleasant surprise in Saving Private Ryan.
I had forgotten Andy Griffith was in this movie...he blew me away. I forgot he could act. I grew up in a house where my father loved The Andy Griffith Show and my mom Matlock. So there has always been a special place for the man.
A great little chic flick that warms the cherry pumping center of my little red heart. To counter balance my diversity I'm going to have to watch BUG sometime this week before you ladies think I like too many of these movies.