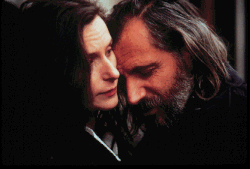 Set against a background of political turbulence in Macedonia and contemporary London, three love stories intertwine to create a powerful portrait of modern Europe in Milcho Manchevski "Before the Rain". When a mysterious incident in the fabled Macedonian mountains blows out of proportion, it threatens to start a civil war, and brings together a silent young monk, a London picture editor, and a disillusioned war photographer in a tragic tale of fated lovers. Told in three parts, and linked by characters and events, "Before the Rain" explores the uncompromising nature of war as it ravages the lives of unsuspecting, and forces the innocent to take sides.
This Macedonian film was sent by a Macedonian friend of mine who wanted me to watch it. The biggest name actor was Rade Serbedzija(Snatch, Stigmata, The Saint, Shooter). The movie took me completely by surprise. From the opening scene I knew this was a movie done with careful quality. The directing and acting were rich and powerful creating the core of the film. I loved the first story titled "words" the most. The others were good but this one was my favorite. It was simple and unique. A monk who is vowed to silence hides a young girl accused of murder. The result took me completely by surprise and especially how it all ties back at the end.
I really liked and appreciated this movie. Although many films after have followed the multi connecting story format this is yet another that does it and does it right. A brilliant unheralded little film from the amazing country of Macedonia.